Standard YouTube Licence
Dutch National Ballet Coppelia, Music Theatre, Amsterdam 11 Dec 2016, 14:00
With
Mata Hari
Ted Brandsen showed he was a master of tragedy (see
Brandsen's Masterpiece
14 Feb 2016). With
Coppelia
he shows his mastery of comedy. I can't remember when I last laughed so much in a ballet or left a theatre more elated. It is without question the best dance show around this Christmas. While I recommend the three
Nutcrackers
or
Hansel and Gretel
from our four leading companies, Sir Matthew Bourne's
The Red Shoes
and Northern Ballet's
Beauty and the Beast
,
if there is only time or money for one ballet this Christmas, this is the one to see. Though I had a horrendous journey from Amsterdam last night thanks to a lorry running into an aeroplane, easyJet's appalling customer service, immigration officers forcing us to use their useless and annoying e-passport machines when we eventually landed at Ringway and a 2 hour wait for a train home, the pleasure I got from that show more than made up for it.
I am usually pretty scathing about updates of well-loved ballets as readers of this blog well know. I don't like bikes on stage in
Swan Lake.
I bristle at shillelagh-wielding wilis. As I said in
Manchester City Ballet's
Coppelia
10 Dec 2016,
Coppelia
already addresses contemporary themes like coming to terms with artificial intelligence, low-level youth crime and elder abuse so why update it? With all these thoughts in mind, I was a little apprehensive as I entered the Music Theatre auditorium yesterday afternoon. I need not have been. Brandsen had made some changes to the story and he had set the scene int the present, but those changes were changes for a reason rather than change for change sake.
Brandsen has changed the names of the lead characters from Franz and Swanhilde to Frans and Zwaantje. He has given them jobs in a gym and a juice bar respectively. He has turned Dr Coppelius into a businessman with a chain of beauty clinics. He has introduced a lot of new characters including a demonic PA to Dr Coppelius called Anna Marx, a girl geek friend for Zwaantje called Emma, lots of relations, celebrities and two adorable dogs danced by children. On the other hand, he has retired Dawn, Prayer and Work as well as the duke and Burgermeister, He has given the last act a new sub-plot with Coppelia turning up in a wedding dress forcing Frans to choose between her and Zwaantje. Probably the best way to appreciate those changes is to watch the animation even though it is in Dutch. In all other respects, Brandsen has left the story unchanged and he has kept the score in its entirety.
Yesterday, the role of Zwaantje was danced by
Anna Ol
and Frans by
Artur Shesterikov
. Both are consummate virtuosos. Ol thrilled us with her
fouettés, p
osé
s
and
chaînés
. Shesterikov with his soaring and seemingly effortless leaps. They are also accomplished actors. Shesterikov held his head in his hands when he knew that Zwaantje had caught him making advances to Coppelia, a gesture known to every single woman in the audience who has caught her man doing something that he ought not to be doing and eliciting a ripple of knowing female laughter. More laughter from the audience as she dodged his embraces until she forgave him. Clearly too quickly because Frans allowed himself to be enticed into the clinic by Dr Coppelius and his assistant.
In Brandsen's version, Dr Coppelius was a major role which was danced yesterday by the soloist,
Edo Wijnen
. He was no eccentric old alchemist pottering about in his workshop but a powerful and unscrupulous businessman. He was energetic and guileful and very sinister. His assistant in his scheming was
Weng Ting Guan
who was as scary as her boss. It was she who produced a bottle laced with a drug that knocked Frans out cold. She wired him up to a machine which was to extract whatever it was that made him human and inject it into Coppelia.
Coppelia was danced by
Nancy Burer
whom I had first noticed when she danced
Embers
with
Thomas van Damme
on the opening night of the Junior Company's 2015 tour (see
The Dutch National Ballet Junior Company's best Performance yet
8 Feb 2015). She had rather more to do in Brandsen's
Coppelia
than in most other productions who simply require their doll to sit and look beautiful and, occasionally, make short, jerky arm and leg movements. Brandsen made her into a seductress and a rather dangerous one. I think I saw more than a little of
Mata Hari
in Burer's depiction of Coppelia, resplendent in her strawberry blonde bouffant wig. There is, incidentally, a very amusing little video of Coppelia playing hide and seek with the security guard on the company's YouTube channel called
Coppelia v The Night Watch
with some lovely views of the Stopera or Music Theatre.
Van Damme, incidentally, also had a character role as a "glam rock star" or one of the dolls in the numbered boxes in the clinic. It was good to see him and other young dancers I follow such as
Cristiano Principato
,
Emilie Tassinari
,
Giovanni Princic
,
Melissa Chapski
and many others. There were opportunities for lots of fine young dancers such as
Ahmad Joudah
who danced the clergymen and indeed the students from the National Ballet Academy two of whom, Aafka Wolles and Wisse Scheele, danced the poodle and dalmatian. The final scene of the ballet with each of the characters taking a farewell bow the corps turning and the children doing
balances
brought each and every member audience (me included) to their feet. Standing ovations, which used to be rare when I first started watching ballet in the 1960s, have become increasingly common. More and more frequently I have to ask myself: "why?" I didn't yesterday. It was obvious. The audience's accolade was well and truly earned by everyone in the cast.
I should say a word for the creatives. Sieb Posthuma's set designs were exquisite. In addition to theatre design he had been an illustrator of children's books and the intention was to create the illusion of walking into a story book. Copies of that book were on sale in the foyer for just over 15 euros. I thought long and hard about buying a copy for Vlad the Lad but there was a lot of text in Dutch. The poor little boy is already expected to master his mother's
Krio
and his dad's
Ga
as well as major modern European languages and possibly the classics. François-Noël Cherpin did a magnificent job with the costumes. And who should be conducting the orchestra but our own dear
Koen
Kessels
.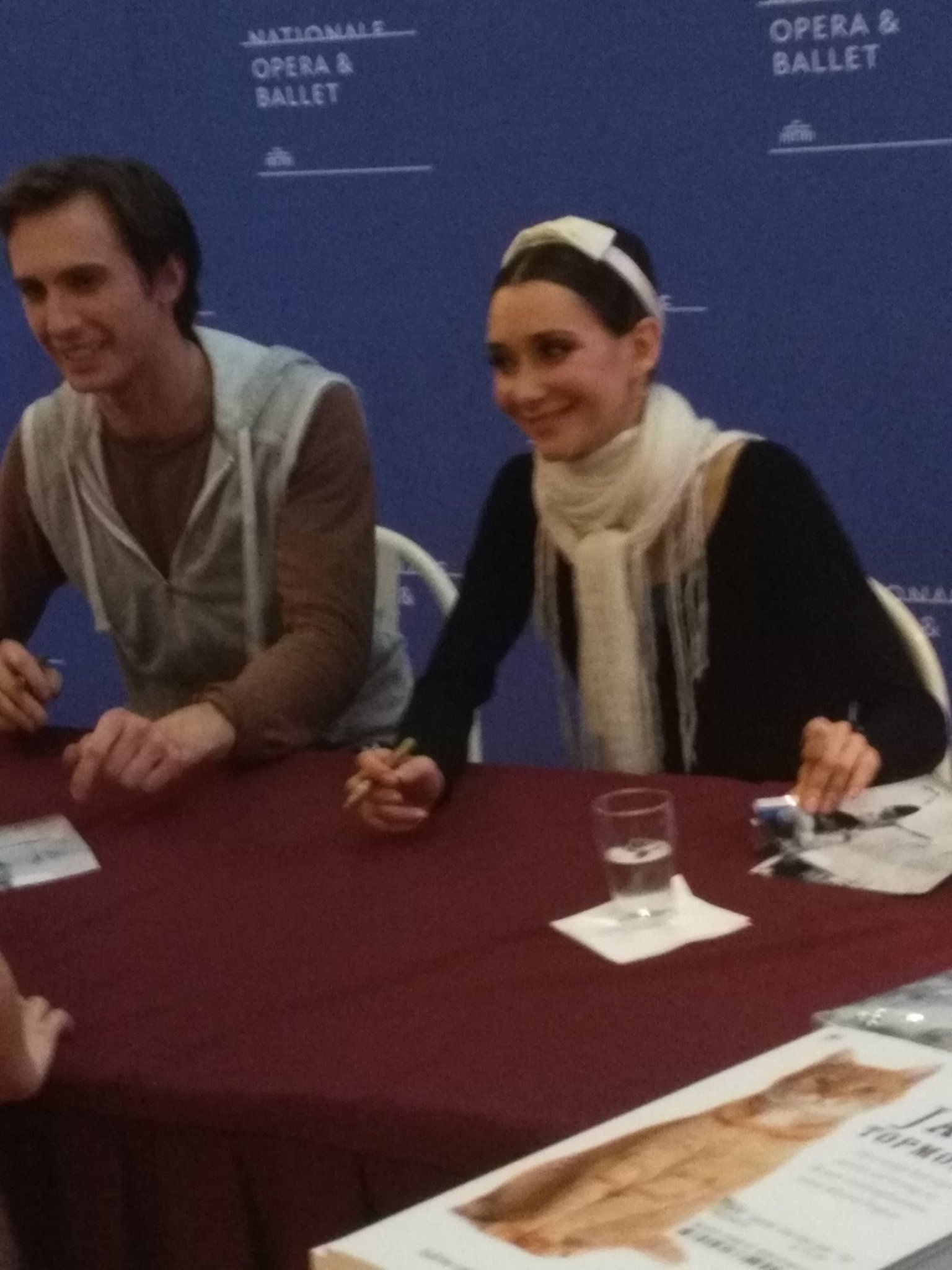 Anna Ol and Artur Shesterikov
(c) 2016 Jane Lambert
All rights reserved
After the show, Ol and Shesterikov sat at a desk at the top of the stairs and signed programmes and merchandise for a lot of excited little boys and girls and their equally excited Mums and Dads. Signing after a matinee is a charming practice of the Dutch National Ballet which I wish dance companies in this country would follow. It would do more to bounce kids into regular exercise than anything else I know.
Like most of my compatriots who follow ballet, my home is Covent Garden. There is nothing quite like the House on a ballet night. But, increasingly, I am finding a welcoming second home in the Dutch National Ballet's Music Theatre and I am beginning to know and love the Dutch National Ballet as I do the Royal Ballet.