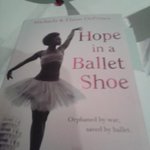 On 7 July 2015 between 10:30 and 12:00
Michaela DePrince
will give a master class at
Danceworks
. The class is for intermediates and above aged 14 or over. The cost is £21.50 and one can book on-line. If I were 50 years younger and a lot better at ballet I would have booked my place like a shot.
I have written a lot about Michaela DePrince over the last two years. You will find links to my articles about her at
Michaela DePrince at TEDx Amsterdam
28 Nov 2014. I took an interest in that dancer long before she crossed the Atlantic for two reasons.
The first is that she comes from Sierra Leone and I was married to a Sierra Leonean for nearly 28 years. My late spouse and I never had any children but we did take care of a young woman from Sierra Leone whose parents sent her here just as violence in Liberia was beginning to spread across the Mano River. That young woman is the nearest I have to a daughter. We sent her to school in Huddersfield where she did well. After three years in Cambridge where she read economics she married a lovely man from Ghana. They have a beautiful little boy with the most expressive face who can run like the wind and jump like a frog. It was she and her husband who gave me the copy of
Hope in a Ballet Shoe
in the photograph above for my 66th birthday just before we saw Ballet Black's
Triple Bill
where they gave the performance of their lives. I don't think I have ever received a better birthday present or spent a happier birthday.
The other reason for my interest in DePrince is that
"She is quite simply the most exciting dancer I have seen for quite a while."
I wrote those words in
The Junior Company of the Dutch National Ballet - Stadsshouwburg Amsterdam 24 Nov 2013
25 Nov 2013 after I had seen her dance for the first time. I saw her again when the Junior Company came to London and she was even better (see
And can they fly! The Dutch National Ballet Junior Company at Covent Garden
30 May 2014). I saw that show with my daughter manquée and sister in law who is, of course, also Sierra Leonean and the pride with which they left the theatre was palpable.
I read somewhere that DePrince plans a
ballet school in Freetown
. I don't know whether that is true but I hope it is. Or if not DePrince then someone. There is a ballet school in Kenya that is doing wonderful things for kids in one of the roughest neighbourhoods of Nairobi (see
Back to Africa
7 Jan 2015 and
What can be achieved by a good teacher
3 March 2013). Not all of those students - possibly none of them - will perform at Covent Garden or the Met but through their exercises at the barre they have been given the physical and mental skills, confidence and pride that will make them much more likely to qualify as the doctors, teachers, engineers, nurses, managers and entrepreneurs who will lead their nation out of poverty. I'd love to see something like that Kenyan school in Kroo Town or Kissy. After a vicious civil war that killed and mutilated thousands and the
ebola epidemic
that is killing thousands more that beautiful country that combines the grandeur of Argyll and the charm of Cornwall in an almost perfect climate deserves a break.